Akita/Siberian Husky muzzle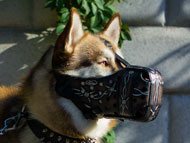 We offer a durable muzzle model for Akita / Siberian Husky breed. Provide your four-legged friend with a high-quality basket-like muzzle made of natural leather. The itm will serve you and your dog for a long time.
Handmade exclusively by our craftsmen.You have to see this muzzle to believe the craftsmanship and quality.Due to great design the muzzle is well...
more info
Model: M41##1062 Akita leather dog muzzle
Our heavy duty humane Cage/Wire Basket Dog Muzzle is used by The professionals for dog training and bite prevention!!!This wire dog muzzle(cage...
more info
Model: M4###1062 Husky Wire Basket Dog Muzzle
NEW ARRIVALS - Akita/Siberian Husky muzzle
Model: M41##1062 Akita leather dog muzzle
Model: M4###1062 Husky Wire Basket Dog Muzzle
---